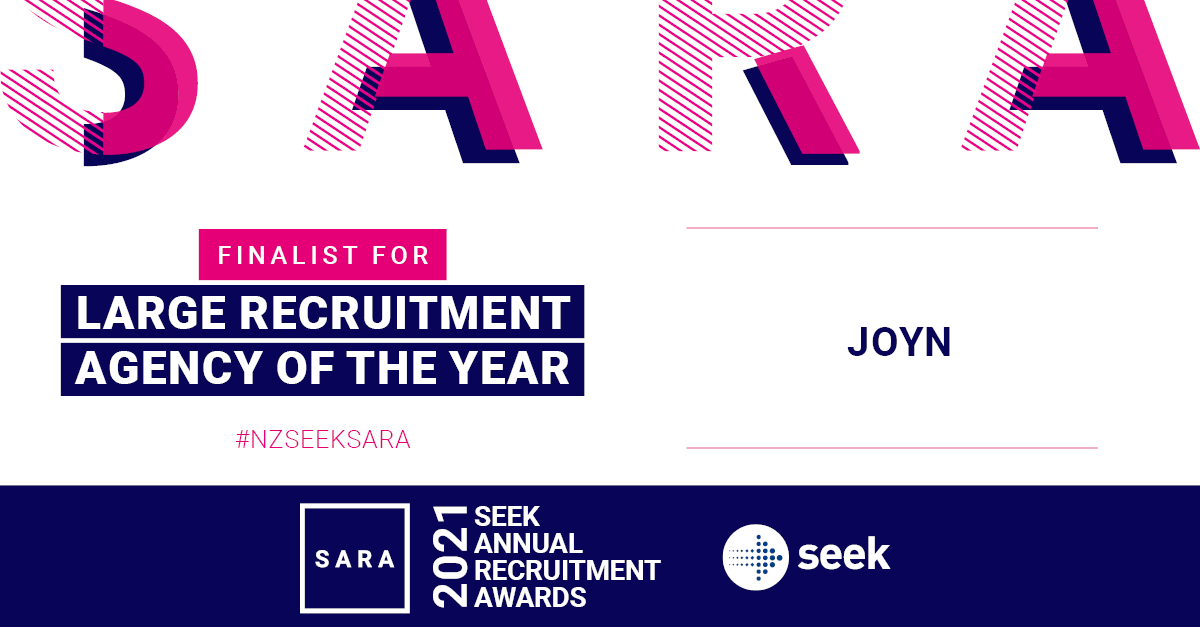 We are proud to announce that JOYN has been selected as a finalist for the SEEK Recruitment Awards. The annual award show celebrates recruitment consultants around New Zealand that have made a true difference to the recruitment industry. Read on learn more about the coveted awards and discover how JOYN is making an impact.
JOYN Celebrates Growth Amidst Tough Conditions
Well what a year 2021 has been. Despite the disruption caused by multiple lockdowns and restrictions across New Zealand, most notably in Auckland, the economy has shown its resilience and businesses have shown their courage by continuing to hire, grow and expand.
JOYN's combination of great value HR and recruitment services with the delivery of our expertise in a flexible, remote, and tech-enabled way has been an increasingly attractive model for many businesses looking to grow. We have welcomed 86 (and counting) new businesses into JOYN in 2021 and a slew of new Consultants have also come onto our books to deliver their service through the JOYN platform.
Our ethos is about transparency and openness, providing data and analytics to our Clients and Consultants to improve service and outcomes, whilst removing the fabled "smoke and mirrors" that still exists in certain corners of the recruitment industry. You can see JOYN's own performance stats on our website with current numbers, since our launch in 2017, making satisfying reading as 2021 draws to a close.

Recruitment Industry Recognition
We were further delighted to learn that JOYN has been selected as a Finalist for Large Recruitment Agency of the Year at the 2021 SEEK Annual Recruitment Awards.
This category is for recruitment businesses with more than 20+ Recruitment Consultants in New Zealand, taking into account factors such as:
Demonstrating innovation
Contributing to the wider recruitment industry
Recruitment industry leadership
Care for candidates and employees
Financial stability and vision for the future

We would like to wish good luck to the other Finalists in our category; Find Recruitment, Madison Recruitment and Talent International, as well as all nominees across other categories too. The Awards evening is set to take place in Auckland on 17th February 2022 (Covid permitting!)
Learn more about the JOYN Difference: Get in Touch Today
If you would like to learn more about the JOYN model and what sets us apart from most other "traditional" recruitment businesses please don't hesitate to get in touch and one of our team will be happy to see if we can help be a part of your growth plans in 2022.